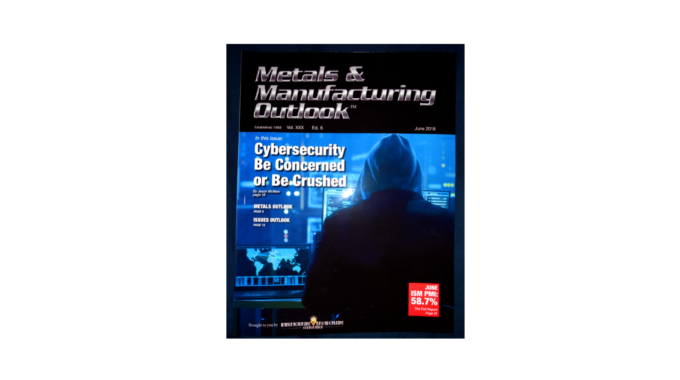 Stronghold Cyber Security CEO authors cover story on cyber security for Metals & Manufacturing Outlook Magazine
Cyber security is an increasingly pressing topic in the manufacturing vertical.  Jason McNew, CEO of Stronghold Cyber Security, recently authored the cover story for the June 2018 edition of Metals & Manufacturing Outlook magazine.  Titled "Cyber Security… Be Concerned or Be Crushed", McNew discusses the need for manufacturers to implement a cyber security plan because not only is it best practice to safeguard valuable intellectual property, but for many, a cyber security framework known as NIST 800-171 has actually been required by the government since before the December 31, 2017 implementation deadline.    This compliance framework is required for government contractors and sub-contractors, as well as anyone in the DoD supply chain.  It is ideal for manufacturers of all sizes, and NIST 800 is the base framework for what is starting to become implemented on both state and local levels, as well as various industry verticals.
American manufacturers of all shapes and sizes have a very serious security problem, because economic and strategic competitors to the U.S. have been actively targeting our companies with the objective of stealing their intellectual property. The biggest of these cyber threats is undoubtedly China. If you want to know what China is after, just look a look at their most recent "Five Year Plan." As there are thousands of manufacturers who make parts for the DoD, the federal government decided to take a proactive approach to this problem, by helping American manufacturers to protect their information with a framework known as NIST 800-171. The framework is ideal for non-DoD manufacturers as well.
Previously, McNew has discussed the NIST 800-171 compliance framework, along with cyber security threats to U.S. manufacturing, in an interview with Manufacturing Talk Radio.