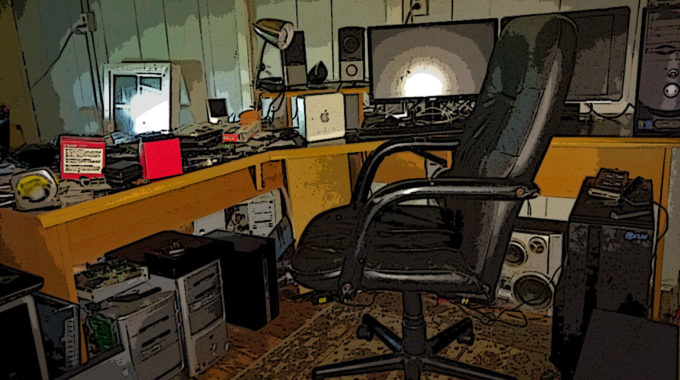 Stronghold Cyber Security mentioned in online Forbes article
You Should Build A Desktop PC With Your Kids…Seriously, A Desktop
Tinkering with desktop PC's might seem counterintuitive in the age of apps, code, AI and augmented reality, but building an old-fashioned desktop PC with your kids can be an enriching experience for them…and you.
Jason McNew, founder and CEO of Stronghold Cyber Security, has been building and fixing desktop PC's with his son Logan for years and has seen the results.
Jason has encouraged him every step of the way; except for maybe the way Logan stores the 12 to 15 computers he's working on at any given time.
"You outta see his room, it looks like a bomb went off in there. We're gonna get him A+ certified, hopefully clean up the mess a little and foster in him the direction of starting his own business."
And this 12-year-old isn't just bumming around for the summer.
He's completing an information technology certification program (A+) and building a self-driving go kart. Logan's interest in computers and technology is part aptitude and part indulgence by engaged parents.
Logan may be something of an outlier, but there's little doubt that kids today are going to need technical know-how tomorrow. They're also going to need confidence and to have a little fun. An easy way to get kids started on this path is to build a desktop—yes, a desktop—pc with them.
Here are 4 reasons you should build a PC with your kids.
It's Easier Than You Think
Building a PC might seem like an intimidating task for kids…and parents. But it's probably easier than you think. Everyone we spoke to compared the process to assembling Lego® blocks. Once you have the right blocks, all you have to do is put them together.
Pcpartpicker.com is a great resource for assembling your build, and finding the lowest prices. Newegg.com is a trusted retailer with fast shipping and good customer service. If you get stuck, the community at reddit.com/r/buildapc will happily answer your questions, provide feedback on your build and give you guidance. Youtube® is another invaluable resource for tutorials, guides and trouble shooting.
With a little research and some time, you and your child will be well on the way to building a PC, developing essential career and life skills, building confidence and, most importantly, having some techie fun.
It Can Be the Building Blocks of a Career
Jason has seen the benefits of an early interest in computers. "Some of the people that do really well in tech, you'll find out they started doing it when they were 10. You'll run into somebody that's 30-years-old and they'll have 20 years of experience," he said.
Logan isn't the only kid out there who learned to build a PC with his parents and is getting ready for a career in tech. And, Jason isn't the only parent who knows that introducing kids to hardware and building a computer with them at an early age might spur an interest in STEM fields that will help them develop the skills that will be in demand in the future.
Terry Kim, founder of IT training startup NexGenT, built a computer with his daughter Tami when she was just seven years old, an experience he firmly believes is prepping her for a career.
"Every time I built a custom PC, I would walk her through the different components. It's like Lego blocks, teaching them what each component does," Kim said.  "It's super exciting to watch a kid see a computer come to life, especially after they understand all the different components and seeing how they operate."
It's been 10 years since that first PC. Tami is a junior in high school and she's moved on to a tricked out custom gaming computer she built and lots of screen time (habits she learned from her dad to hear him tell it.)
Kim said Tami is always on the computer, playing League of Legends and first person shooters; and teaching herself to code online with Code Academy©.
He feels confident that her strong interest in tech, developed by those early years building computers, is preparing her for a career.
She's a self-starting, problem solver who's ready to take on the digital job market.
It Can Build Confidence with Tech
Building a desktop PC from scratch can empower your kids and give them confidence, not just with technology but with problem solving and understanding complex systems.
Dr. Allen Selis, an educator with over 20 years of experience, sees this firsthand at Tech EdVentures, the education startup for kids he founded in Dallas. Selis launched Tech EdVentures in 2014 to give kids a leg up with tech and to rectify what he sees as a fundamental rift between using technology and making technology.
"The biggest thing we talk about all the time is the user and maker gap. You're either on one side of that gap or the other," Selis said. "If you're a user you don't have a lot of knowledge of what's under the hood, someone makes a profit on your desire to do something cool."
Selis is committed to helping students become makers, by giving them confidence to work with tech through projects like building a PC.
"If you're a maker you can say, 'hey I know how this works, I'll build it, I'll change it, I'll hack it, I'll create it myself.' Now you're a maker and you're in the most empowered part of the market."
That confidence and empowerment can open up careers and education in STEM and avenues for young learners to explore; it can also lead to a whole lot of fun.
It's a Fun Way to Learn
Mark Pavlyukovskyy first used games to teach kids while volunteering in Ghana. There he used play to teach children about health, well-being and how to avoid malaria. He soon realized the same approach, games, could be used to teach kids in the US about technology and set about building a platform that would teach younger children how to build a PC—all while having fun.
Piper®, a kit for kids 8-12 that uses the ultra-popular game Minecraft®, is the result. Kids build the computer, then learn how it works through a custom Minecraft game.
"A lot of parents think Minecraft is a game, but it's actually a creative medium," Pavlyukovskyy said. "Kids build whatever they want inside a 3D world, whether it's houses, the Eiffel tower, 8 bit computers that work."
Piper combines this creativity with a hardware kit to make the whole process a fun learning experience.
Kids are presented with a blueprint to build their computer and are tasked with helping a damaged robot save the world by building the computer, then components including a controller and LED lights.
"A lot of learning products get bogged down in the minutiae. Kids don't care what a thing is called, they just want to do something," Pavlyukovskyy said.
"The way they learn is going after a challenge like moving or building something. That's where the best learning happens, when you're doing something for a grander reason."
Whether you opt for Piper, or the custom route, building a PC with the end goal in mind will make it a fun learning experience for your kids.
Source: https://www.forbes.com/sites/capitalone/2017/07/20/you-should-build-a-desktop-pc-with-your-kids-seriously-a-desktop/#3557f1166522