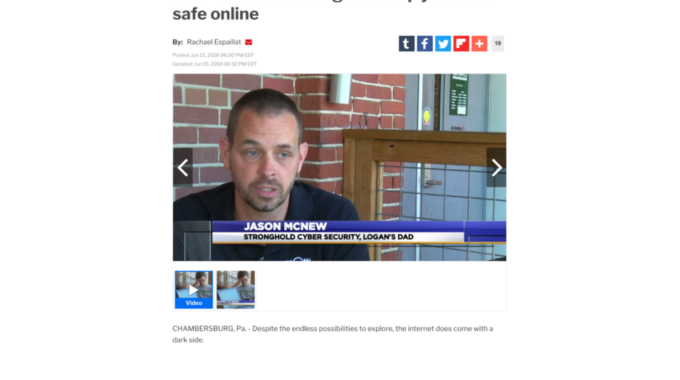 Stronghold Cyber Security CEO interviewed about content filtering for WDVM-TV
Jason McNew, CEO of Stronghold Cyber Security, discussed content filtering in a brief interview with Rachel Espaillat of WDVM-TV (formerly WHAG-TV) out of Hagerstown, Maryland on Friday, June 15.  Jason appeared alongside his son Logan, as well as Barry Arendt of ThinkEz IT, in a segment known as Cybersafe Parent.  In this segment, Jason and Barry discuss how content filtering can help keep kids safe online.
"It's really important to be cognizant of what their kids are doing on the internet," said Jason McNew, owner of Stronghold Cyber Security and Logan's dad.

Especially when they're unsupervised. Some of the filtering can be done through the main internet connection, cell phone software or computer devices.

"There are a lot of products that are coming on the market that are cheaper and much easier to use and you pay a monthly feel and they are pretty effective," Jason said.
Please view a short video clip of WDVM-TV's interview at their website.
Earlier last month, Jason had discussed a similar topic pertaining to child identity theft with Jim Cramer's TheStreet website.